This is a Cast Iron Body duty yet simple to operate Hand operated Sheet Folding machine having capacity to fold upto 1250mm length x 1.6mm thickness mild steel sheets. The sheet folding machine is very versatile with good design features making the use of this folding machine easy and adjustable to suit the job need. The lower beam has the operating lifting handle which moves easily & smoothly. The entire hand folding machine is mounted on suitable stand for proper height for ease of operation. The fabricated stand is wider at the base for added stability. The sheet folding machine is supplied with one full length standard finger and others as per requirement can be supplied.
We can also supply this machine in heavier version to fold sheets upto 2.0mm thickness against specific order.
Sheet Folding Machine And Bending Machine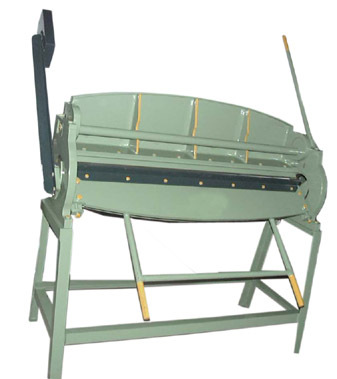 Do get back us on the following address for further details or email us for quotations.
Merchant Machinery Mart
Address: 110/116, Chimna Butcher Street, Parda Cottage, Null Bazar, Mumbai 400003, India
Ph. No.: +91-22-23462379 +91-22-23464459
Mobile No.: +91-9769902410 +91-9869030257
Fax No.: +91-22-23464459
Email: merchantmachinery@gmail.com