Wood Working Machine
This is the parent category for all wood working and wood cutting machines. Given below are different brands of woodworking machines available in Mumbai. We have brands like JAI Brand woodworking and wood cutting machine and ORBIT Brand wood working machines and Milson Brand woodworking and bandsaw machines. We deal in most kind of wood working machines. Mostly we have ready stock for these wood working machines in Mumbai.
Below given are various brands along with their specification sheets for wood planner, wood cutting wood working and other types of wood related machines.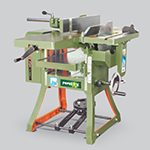 JAI Wood Working Machinery – Our Logo Jai Industries Group is made up of hundreds of enterprising people involved in engineering, manufacturing and managing the markets in India & abroad. Jai Industries has done the pioneering work of bringing ethics of organized sector in to this field. Developing new m/cs and up-grading the existing m/cs […]