Fouji Air Compressor
We are authorized dealers of FOUJI Brand air compressor machine all over Maharashtra. Fouji air compressor upto 7.5HP is always ready stock with us. We are authorized dealers of crompton greaves motors too which we supply with FOUJI aircompressors. FOUJI is one of India's leading brands in air compressor machine. Fouji air compressors are know for its long life high performance and durability and specially no maintenance cost.
Click on the " Read More" button to go through various models of FOUJI air compressor along with its specification sheets.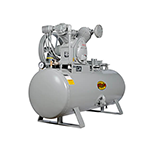 Fouji Air Compressors are one of the most famous air compressors available in India. They are the most successful brand of air compressor in India. Fouji Air Compressor cannot be sourced directly from Fouji but only through their selected agents. WE Merchant Machinery are the privileged Fouji Air Compressor Agents in Mumbai, India. AUTHORIZED DEALERSHIP […]