Pipe bending machine
We do wholesale and retail of all kinds of hydraulic pipe bending machines. We have various models in hydraulic pipe bending. We have hand operated hydraulic pipe benders and motorized hydraulic pipe bending machines and non hydraulic motorized pipe bending too.
When the pipe thickness is between 2mm and 5mm you require either hand operated hydraulic pipe bending or motorized hydraulic pipe bender.
When pipe thickness is 0.5mm to 2mm then you cannot use hydraulic pipe bending machines as it will cause wrinkles on the pipes.
You can click on the "Read More" button below and look at all the models we have in Hydraulic and Non Hydraulic Pipe Bending Machines.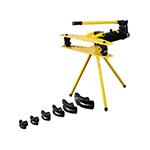 BEEKAY Brand Hydraulic Pipe Bending Machine – Our Logo BEEKAY Benders is a growing fast in the hydraulic and motorized pipe bending machines. They are manufacturers of hydraulic pipe bending machines. These machines are different from others in many ways. The dies are strong and mostly unbreakable and it has double acting pumps ( 2 […]