Shree Ambica Metal Cutting Hydraulic Hacksaw Machine
Shree Ambica Hacksaw Machine – Our Brand Our Logo



Shree Ambica are manufacturers of metal cutting hacksaw. These hacksaw are also called metal cutting saw or sawing machine Hacksaw blades are also available with us. Ambica Hydraulic Hacksaw Machine are durable reliable and comes with full guarantee of 1 year.
Contact Us For Price Or Queries. We are located in Mumbai, India
General Features of this Hydraulic Hacksaw Machine are as follows
# Saw frame: This is rigid construction & runs in prismatic guide. Ensures a parallel cut.
# Drive: Power is supplied by a suitable electric motor through full adjustable Vee-Belts.
# Speed: The incorporation of two speed driving mechanism ensures the most suitable speed to select for material being cut.
# Coolant: The coolant tank is completely enclosed in the machine base. Speed pump supplied coolant is enclosed to the saw blade through a stay put pipe & top.
# Bed: The bed is of large production. It is provided with guide ways for the vice for clamping the material. The vice is of rigid constructional. One jaw remains fixed & the other is adjustable according to the material to be cut.
# Feed: Two leavers are supplied at the pot. One regulator is for rating of feed and the other enables the bow slide to raise or forward hydraulically bow raised automatically & motor switched off on completion of the cut.
# Electrical equipment: A direct on line push button starter can be equipped that incorporates & adjusts trip mechanism. It stops the machine as soon as the blade is clear from the work. Non productive time is reduced to minimum.
Semi Hydraulic Mechanical and Bearing Type Hacksaw Machine, Mumbai, India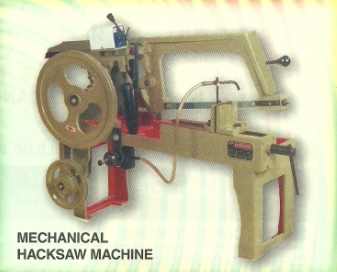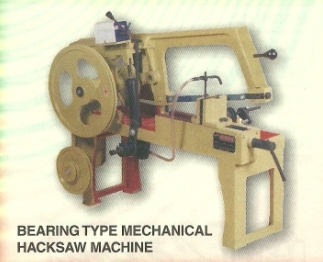 Technical Specification of Ambica Brand Metal Cutting Hacksaw Machine, Mumbai, India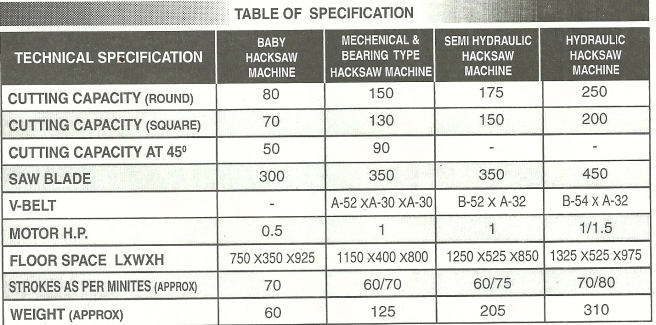 Contact Us For Price Or Queries. We are located in Mumbai, India